A second collagraph workshop, taught by Jenya at the Creative Center in February 2005, was a success.

---
Jenya Frid and her husband, Slava, are proud to announce the birth of Anna Roza Frid.
Born on January 27, 2003, Anna promises to
provide inspiration for new children's book ideas.

---
Jenya taught a collagraph printmaking workshop
at the Creative Center in November 2002

---
Jenya Frid
"Prints"


September 22 to November 8, 2002
The Creative Center
147 W 26th St., 6th floor
New York, NY 10001
---
A smaller version of Jenya Frid's portfolio
can now be viewed on Theispot-Showcase™
---
Common Scents Cards, the company for which
Jenya Frid did a set of four greeting cards last year,
was featured in many publications, including
GiftLine.com, Quick Print Magazine, Brooklyn's
Parenting Magazine, Small Business
Opportunities, Art Licensing, and BAOlink.
You can learn more about Common Scents Cards
by going to
www.commonscentscards.com
.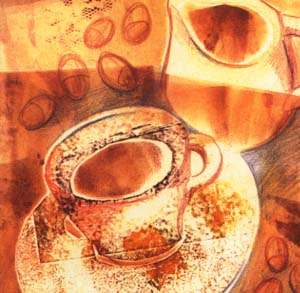 ---
This artist's book by Jenya Frid was purchased by a prominent private collector
If you are interested in seeing more artist's books
and fine art prints, call 917.421.8182 or email

jenya@fridnet.com
to make an appointment
---
"Hot Summer Properties"
a group exhibition
August 15 - September 14, 2001
Center for Book Arts
28 W 27th Street, 3rd floor
New York, NY 10001
212.481.0295
www.centerforbookarts.org
---
"Windows"
a group exhibition
April 2000
Parsons School of Design gallery